Technology in Endless Space is divided into four categories: Galactic Warfare, Applied Sciences,Exploration & Expansion, and Diplomacy & Trading. Certain technologies are specific to a faction. Discovering technologies using

unlocks various types of Unlocks that advance the capabilities of youir empire.
Something that should be noted is that all technologies with an orange colouration on their thumbnail are technologies that are 'unique' to the player's faction, whether in position, description or in what it gives. This does include all Ship-providing technologies.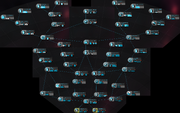 As expected, these technologies focus on waging war - various weapons and defences, plus other modules for your ships, and defensive improvements for systems.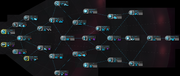 The Applied Sciences technologies allow an empire to discover and exploit Strategic Resources and improve your Industry

and Research

economies through improvements. It also provides a number of battle actions.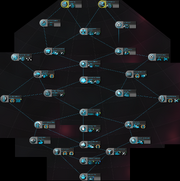 Technologies in this area provide access to new types of ship hulls, the ability to colonize and/or improve different types of planets, travel further or faster (i.e., through warpholes), etc.
Diplomacy and Trading technologies deal with agriculture or

production,  improving the dust

economy, negotiating options with other empires, trade routes, manage your citizenry, and increase the limits of a fleet's command points and the size of the hero academy.
List of Universal Technologies
[
]
The number after the "/" in Research Cost is the cost for Galactic Warfare technologies in that row.
Research Cost

Applied Sciences
Exploration & Expansion
Diplomacy & Trading
Galactic Warfare
40 /
30
130 /
100
Specialized Isotopes
300 /
225
680 /
510
1800 /
1350
4000 /
3000
7500 /
5625
14000 /
10500
25000 /
18750
36000 /
27000
60000 /
45000
Dust Virtualization
Extreme Consumption
1212000
Pan-Galactic Society
N.B. The above table will differ somewhat from the Cravers and the Harmony technology trees. The Cravers have several unique technologies that replace existing universal technologies, and due to the Harmony's inability to use dust or heroes, their Diplomacy & Trading tree, in particular, is very different.
List of Faction-Specific Technologies
[
]
Amoeba
[
]
Automaton
[
]
Cravers
[
]
Harmony
[
]
Technically, every technology in the Harmony Diplomacy and Trading tree (except for Extreme Consumption) is specific to them. However, these mostly entail either:
having a different position in the tree (and thus a different research cost and/or prerequisites); or
Specifically listed in the table are those technologies which are unique to the Harmony or differ for reasons other than those given above.
Hissho
[
]
Horatio
[
]
Pilgrims
[
]
Sheredyn
[
]
Sophon
[
]
Sowers
[
]
The Sowers also have unique versions of all of the colonization Empire Improvements in the Exploration and Expansion technology tree.
United Empire
[
]
Vaulters
[
]